Stay Determined > Own Lock down > Improve Lives
Since we've entered what I can only refer to as "lock down lite" in the UK, with mixed messages and so much uncertainty... I have made a conscious effort to try and make the most of any extra time I have in order to improve whatever aspects of my life I can. With which I have focused a lot on my foray into Herbalife, both during the challenges and also trying to develop the business side of things. I'm trying my best to take my challenges head on right now, hence the image below (I have been rewatching Dexter for the umpteenth time recently).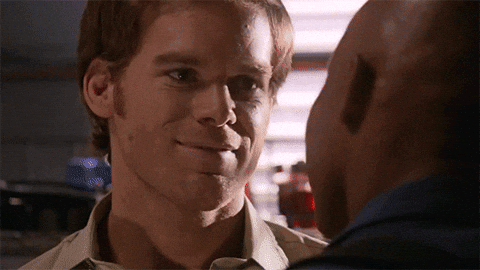 Of course it has not gone perfectly, but honestly I'm proud of my efforts and I have certainly made progress. After getting both my wife and sister involved in April's challenge, I have focused mainly on giving the challenges my best effort. Even doing an extra 2000 reps every other day during May's 21 day Me Vs Me 'Lean in Quarantine' challenge. As you can imagine, I got great results and having shared them I got plenty of fantastic feedback, which was a much need confidence boost. So, I wanted to just talk a little more about how the whole thing works.
The process is straightforward. After you decide that you're interested, you would visit the site of the independent distributor who introduced you to the products. Here you can fill out a wellness profile, which gives you achievable nutritional targets based on your circumstances and goals. Along with this come product recommendations that could help you achieve your goals, from which you can decide what product package you would like. Obviously this will depend on your budget and what suits your needs. You can then choose whether or not to get involved in a challenge, but for £5 the value is insane.
A guided 21 day programme of exercise, nutrition and well-being. The challenges themselves provide a great incentive. Your £5 goes into a prize pot and with over 1200 people in the last one, over £5000 was given away. There are plenty of ways to get involved. Each has it's own criteria and of course depend on how much effort you put into the challenge. With independent judges looking at evidence to award the prizes.
From my first challenge I decided to start on a plan with two shakes a day and have gradually trialled and added various products. At between £50-£150 per month (depending on what I ordered) I wasn't sure I could afford it. But when I added in the amount I would usually spend on takeaways, snacks, coffees and assorted junk food during that time I actually saved money! The improvement in my general energy levels and health is something I'd happily pay more for and I consider great value. Having tried various cheaper brands of shake and methods of losing weight and improving my health, it's been a whole other level for me.
When you have chosen your package and sign up to the challenge you are added to the challenge group, along with a Whatsapp group for support and there is an introduction call the evening before it all begins. This is a Facebook live call, whenever these are done they always recorded and added to the group for access at any time. Next, you download the PDF guide that outlines everything involved in the challenge. Meal and nutrition guides, recipe ideas, planners and trackers all included. Along side this you are added to the health hub, which similarly has free workouts, nutritional information, recipes and general health advice.
Using the instructions provided as part of this you then take your before pictures, with the idea being you take pictures under the same conditions when you finish so you can see the progress you made. This is much more accurate than tracking your weight as it accounts for all of your changes in body composition (see below).
NOTE: You are not required to share anything on social media or even with the person who introduced you, just a coach on the challenge and ONLY IF you want to be eligible to win a prize. How much you want to share is up to you and nothing is ever shared without your permission.
Day 1 is a fit-test. You are given a few exercises to do, with lower impact alternatives and different levels to suit all fitness levels. You record your results so that when you repeat the test on Day 21 this becomes another way you can see the progress you have made. In between this, each day alternates between nutritional challenges to raise your awareness of what your body needs and different exercise challenges with an emphasis on high intensity interval training (HIIT).
To go alongside the incredibly varied HIIT workouts, there are a few different strength, stretch and cardio specific ones too. The nutritional challenges focus on each of your meals and macronutrients. One on Breakfast, another on protein intake, another on fibre, another on snacks and so on. At least one challenge on mindset is included and often one live cooking challenge which is always great fun.There are daily disciplines focused on food and water intake, along with some kind mindfulness / self-improvement.
What I love about the challenges is the community aspect. It's like a family full of a massive cross-section of positive people that all have the same goal - to improve their health. Until I missed a couple I don't think I realised how much of an impact these were really having on my day-to-day life. Lock down has been a blessing in the respect that I have reconnected with this and had something outside of my work to focus on. I think the results speak for themselves (see below). But for those who are unsure or don't relate to my specific story there are loads at on the new MEvsME offical site
As for the business side of things, I am most definitely still learning about that. I'm no Stan (If you've ever played Monkey Island) and I'm not as social media savvy as I like to think, so it's taking me some time. But there are some amazing people within the business that are really supportive and the results they are getting speak for themselves. With a friend recently qualifying for a holiday through the business and so many having their best ever months (including me), I'm happy that it will come. I am especially confident in this as I continue to improve my health massively using the products.
NOTE: I have no idea what the new money only caption is about, I don't remember that from the game at all. But it's the only Stan related GIF I could find
I am looking forward now to the June MEvsME Summer step out challenge which starts on the 8th of this month. As we start to come out of our version of lock down and with a school return looming large on the 15th June, it's a welcome focus to help keep me on track and in a routine. Especially having been waiting nearly two weeks between challenges as opposed to the usual one, I'm chomping at the bit.
I am going to have yet another attempt to be part of the 5 am club and am hoping to start running with the dogs instead of walking, having dabbled last month. Hopefully meaning I can dip below 16 stone for the first time in nearly a decade. I think if I can manage to do these things this month then I will have just one major thing left to do, which is maintain good habits in-between this challenges. This is definitely where I want to be by the end of September, the point of having been with Herbalife for a year. Wish me luck!
If you or anybody you know wants to improve their health, please don't hesitate to contact me and get involved. It could well be the best decision you ever make.
Stay safe and take care
Greg xx
#dadblog #mentalhealth #fatherhoodblog #observations #Advice #Tips #Humour #food #parentingblog #Herbalife #Herbalifenutrition #Nutrition #Diet #Wellbeing #Honesty #Review #Energy #weightloss #exercise #Daddyslog